VARSITY WRESTLING DUAL vs. Ord - 12/3/20 has been cancelled.

BASKETBALL @ ST. PAUL 12/3/20 - A PASS LIST IS REQUIRED - HOUSEHOLD MEMBERS ONLY. The coaches are working on getting a pass list for parents. We are limited on the number of names who can be on the pass list. NO CONCESSIONS.

BASKETBALL @ CENTRAL CITY 12/4/20 - WRISTBANDS ARE REQUIRED TO ATTEND. The coaches are working on getting a list of parents who will attend. We are limited to a small number of wristbands. Concessions will be available. No team meals.

Wrestling @ Columbus Lakeview 12/4/20 2pm - ONLY PARENTS WILL BE ALLOWED TO ATTEND. Concessions will be available.


COVID- 19 numbers for Monday, 11/30/2020.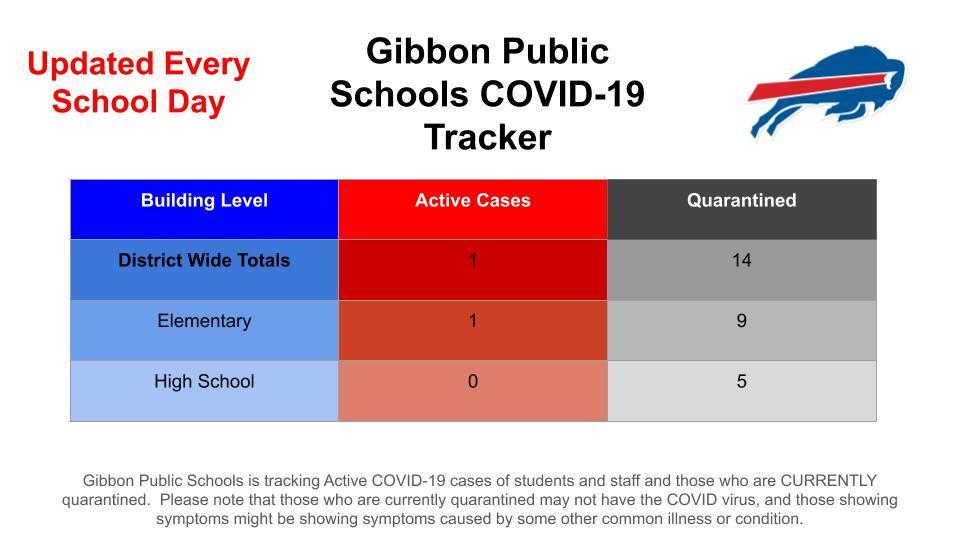 District One-Act --- Gibbon performs @ 9am on 12/4 in Wood River. Good Luck!!

COVID-19 update for Tuesday, 11/24/2020. Have a safe, happy and healthy Thanksgiving everyone. Remember to wear your masks, keep your distance and wash your hands frequently. See you Monday!!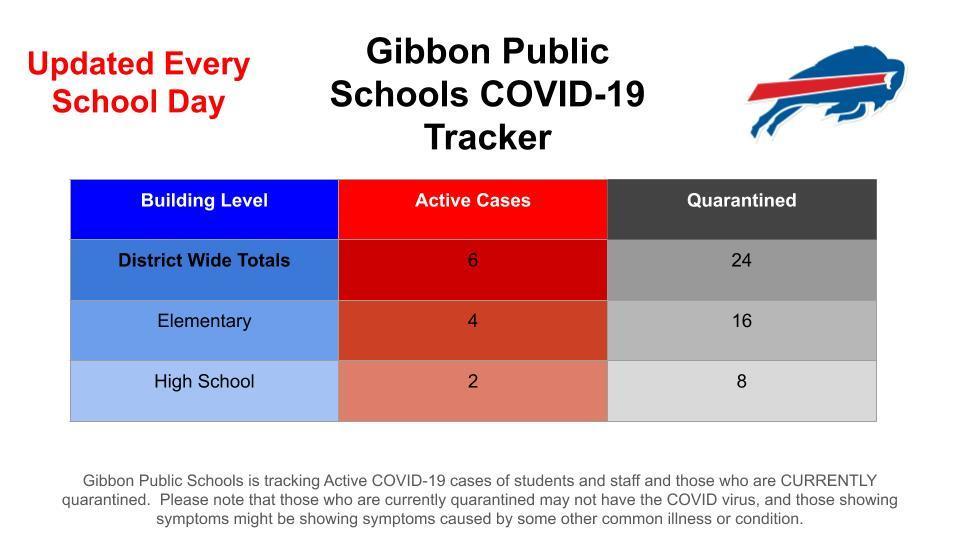 Your COVID-19 update for Monday, 11/23/2020.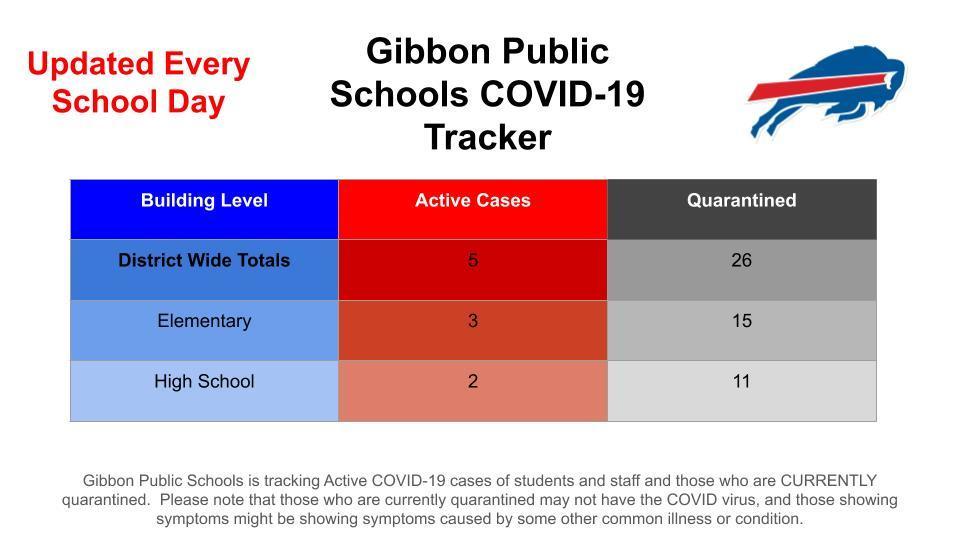 Download our app for more access to communication, calendars, and activities. Make sure to adjust your settings so that you receive any push notification that might be sent. See the image here to learn how to change your settings.

A couple of coats were left in the gym this morning after little kids basketball and there were also a couple of coats that were mistakenly taken. Please check your son/daughter's bag and if they made this mistake, please return the coat to the school Monday morning. Thank you!

Congratulations to the following volleyball players - Jalyssa Gillming and Desirae Nunez for being selected on the Louplatte Conference First Team & to Samantha Walker who received Honorable Mention.

Congratulations to Daniela Corona for receiving All-Conference Honorable mention in GOLF. Very nice!!!

Congratulations to the following CROSS COUNTRY runners for receiving LOUPLATTE CONFERENCE AWARDS - Alissa Bailey, First Team & Lindsay Wilkens and Kaleb Pickel, Second Team. Great job!!

Contgratulations to the following football players for being named to the all-district football team - Dylan Davis, Sean Hampton, Chance Yockey, & Matthew Weismann. Honorable Mention - Roman Kolbet, Carlos Tamayo, & Braxton Smith GO BUFFALOES!!!!

Today's COVID-19 Update, 11/20/2020. Have a happy, healthy and safe weekend Gibbon Buffs!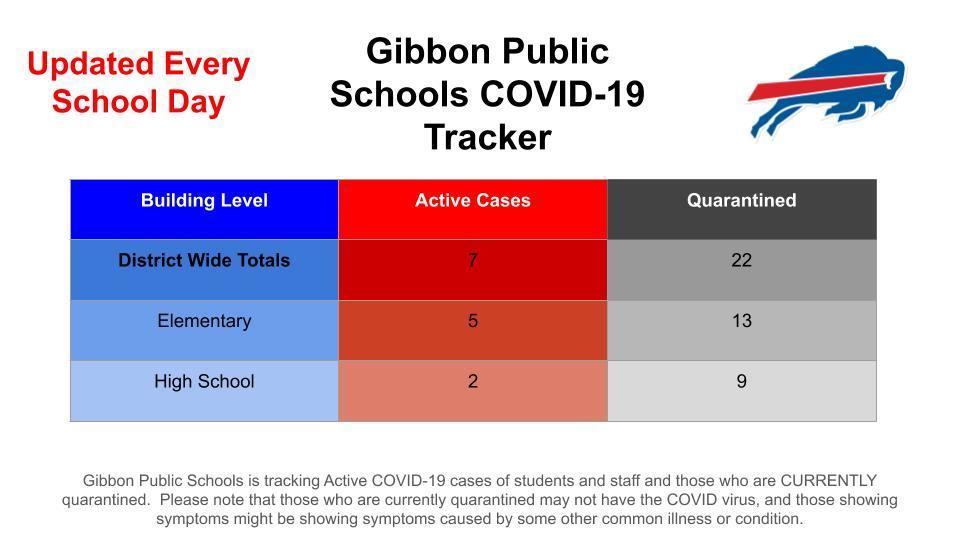 Despite the risk dial for Two Rivers Pubic Health Department remaining in the red, or "Pandemic" stage, Gibbon Public Schools continues to rock the world and maintains focus on staying in school. Great Job Family of Gibbon Public Schools! #WeAreGibbon #GibbonNation

Updated View of the COVID-19 numbers for Thursday 11/19/2020. I've changed the form to hopefully make it a little less confusing.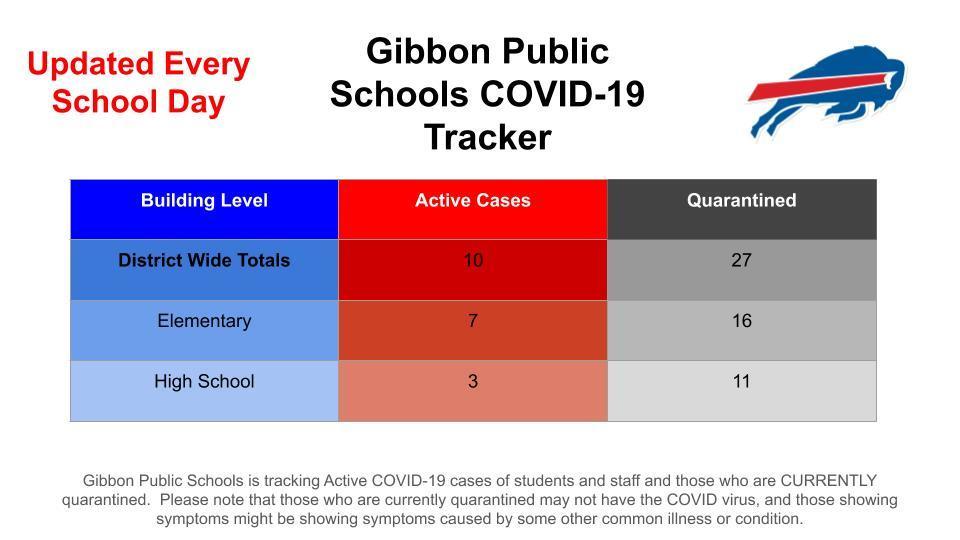 Wednesday's COVID-19 update.